Vintage Car & Aircraft Clocks & Aviator Watch Repair Restoration Service:
Total: $275 + S&H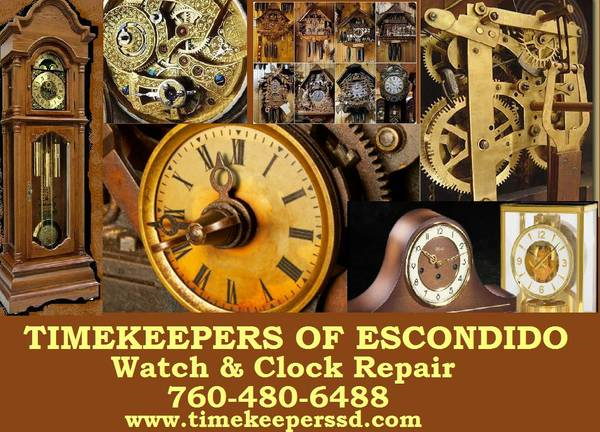 We offer mechanical restoration to original specs on many domestic and foreign 12 volt mechanical clocks and will get your auto's clock ticking.
We specialize in all types of mechanical automobile and aircraft clocks including AMC Rambler Classic, Chevy, Camaro, Nova, Dodge, Buick, Plymouth, Chevelle/El Camino, Monza/Vega, Impala/Caprice, Ford, Galaxie, T-bird, Mustang, Escort, Mercury, Montego, 82 Lynx, Olds, Cutlass, Harley-Davidson, Hamilton, Elgin, Waltham, Elgin, Junghans, Smiths, Kienzle, Jaeger, etc.
We have been repairing and restoring all types of mechanical aircraft clocks made for WWI & WWII aircraft from the British, German and US air forces. Very rarely we have came across pieces from Japanese, Italian and French forces for over 20 years.
If you are interested in having your vintage mechanical car or aviation clock/watch worked on and expertly fixed please contact us.
Guaranteed Clock Repair Services include but are not limited to:
* Free In-Shop Estimates
* Complete Clock Overhaul and Cleaning (*)
* House Calls
* Grandfather Clock Set-Up and Re-Location
* Professional Service
* One year warranty
* Appraisal
Prolong the life of your clock so it can be passed down for generations…
This offer is for repair and service of your vintage mechanical / wind up car and/or aviator time only clock and/or wrist watch(*) :
Offer includes disassembly and inspection for internal and external signs of damage, excessive wear or other visible problems. The case is opened and inspected for visible damage or wear. The movement is removed from the case, disassembled for cleaning and all parts are inspected as they are moved, gears, jewels, pinions,etc. It is the only way to check all jewels, springs and pivots. During service it is important to install new mainsprings, renew all pivots, adjust the escapement and various functions for wear, clean the case and dial, refinish hands if needed, etc. All parts are put through a proprietary cleaning process to remove all oils, corrosion, metal dust or other contaminants. All parts are reassembled & oiled by manufacturer's recommended procedure. If any additional parts are needed, there will be an additional charge for in which you will be contacted and told the cost. The movement is then timed using the most accurate and latest horological timing instruments. The case and band are cleaned chemically using an ultrasonic cleaner, satin finished and plastic crystal is polished. 1 (one) year warranty.
(*)  All mechanical and automatic watches and clocks should be serviced every three years to obtain the maximum life of the watch.
(**) This offer DOES NOT INCLUDE  clocks with chronograph, calendar and/or elapsed time, an/or stop watch features. Please ask for quote or see our other Ebay promotions for these kind of clocks.
(***) We have been repairing and restoring all types of mechanical clocks such as Seth Thomas, Herschede, Howard Miller, Ridgeway, and Sligh clocks for more than 20 years. We provide service for all brands of mechanical clocks, including brands that are less well-known, such as Atmos, Gustav Becker, Lenzkirsch, Sessions, Waterbury, Gilbert, Ingraham, Smith, Hermle, Schatz, Kundo, Ithaca, Elliott, Emperor, Hammond, and Revere Telechron electric clocks. We specialize in all types of American and European clocks, including 400 day or Anniversary Clocks, Cuckoo Clocks, Chelsea, Wood Works Clocks, wind up car clocks, wind up airplane clocks, Biedermeier, Vienna Regulator, Grand Sonnerie, Calendar, Crystal Regulator, Ship, and all types of English and Scottish clocks.
No product categories exist.